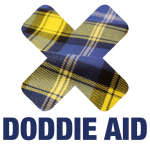 Fellow members
Many of you will not have met Doddie Weir, but I was lucky enough to play rugby with and against him for over 15-20 years
He is one of the nicest guys you would ever be likely to meet and as you will all know he has been dealt a terrible hand!
Below is an extract from his website to raise awareness for the horrific disease that he has contracted.
Just when you thought January was going to be spent lounging on the sofa, foraging for leftover chocolate coins and counting down the days until the 6 Nations… Doddie Aid is back.
Doddie Aid is a mass participation event, encouraging you to get active in January and raise funds to help find a cure to Motor Neuron Disease. It was founded by former Scotland captain and British and Irish Lion, Rob Wainwright and raised a staggering £1M in January 2021, with 22,000 people taking part.
A few of us took part covering a few miles trying to help raise funds for awareness and a cure for this disease.
Thanks for those who have already donated and thanks in advance for those who donate.
We had a great day yesterday, and Walter Graham joined myself, Peter Laverne and Jim Taylor
Therefore, we covered 24 miles, plus Jim did 5K on his hand bike, whilst awaiting us completing the 18 holes.
In 1st Place was Peter, then Walter them Fergus then Jim
We played for a small prize but donated it to the charity.
Thanks to all those that supported and donated.
If anyone wishes to donate go to the doddieaid.com and click on Glasgow Just Giving page and make your donation. Any help would be great or small donaton would be very much appreciated
Thanks again for all the support.
Kind Regards,
Fergus Wallace